AROUND CANIGÓ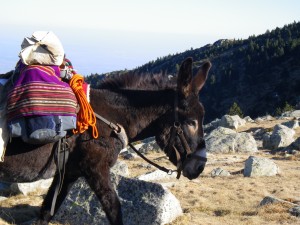 | | | |
| --- | --- | --- |
|             Rent 5 jours |   without muleteer |   With muleteer |
|                  1 donkey |     250 € |   760 € |
|                 2 donkeys  |    500 € |    960 € |
1st day: Departure from Los Masos de Valmanya to the stables of Cortalets refuge.
2nd day: From the stables of Cortalets refuge to Mariailles refuge passing by the Mount Barbet.
3rd day: From Mariailles refuge to Saint Guillem refuge passing par by Pla Guillem.
4th jour: From Saint Guillem refuge to the les stables of Batère refuge.
5th jour: From Batère refuge to Los Masos de Valmanya passing the ancient mining village of Pinosa.
This track is addressed to trained walkers who know to orientate themselves in the mountains.
A 1:25000 map will be made available to you as well as the route and the GPS way points GPS of the track.
ACCOMODATION possible
at the start or finish of your hike choose your night in  a tipi or a bivouac area in tents
Possibility to rent camping foams and sleeping bags.